Analysis: Chechen Strongman Fights To Preserve His Private Army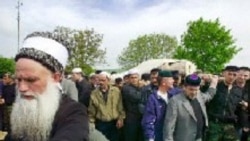 In the run-up to the 29 August ballot to elect a successor to slain pro-Moscow Chechen leader Akhmed-hadji Kadyrov, the Russian leadership is apparently seeking to undercut the authority of Kadyrov's son, Ramzan, by either abolishing the "presidential guard" he commands or subsuming some of its members into a new crack Interior Ministry regiment. But a Chechen spokesman, Muslim Khuchiev, told Interfax on 22 July that the presidential guard will continue to exist despite the creation of the new regiment.
Russian media consistently portray the 28-year-old Ramzan Kadyrov as a semi-literate thug whose private army, variously estimated to number between 2,000 and 6,000 men, has in recent years routinely engaged in the arbitrary abduction and murder of hundreds of Chechens. Ramzan Kadyrov thus became one of the most powerful and most feared men in Chechnya, which is presumably why he was named Chechen first deputy prime minister the day after his father's death (see "RFE/RL Newsline," 11 May 2004). But the Russian authorities drew the line at either violating or amending the Chechen Constitution to circumvent the requirement that candidates for the post of republican leader must be at least 30 years old, thus effectively barring him from becoming president for the time being.
Moscow 's strategy appears to be to engineer the election next month as Akhmed-hadji Kadyrov's successor of Chechen Interior Minister Major General Alu Alkhanov, on the assumption that Alkhanov is strong enough to keep Ramzan Kadyrov and his guardsmen in check. But the wisdom of that assumption was called into question by Ramzan's recent statement that "if the [Chechen] people demand that we fight against Russia, we shall obey," according to "Nezaavisimaya gazeta" on 22 July.
On a lightning visit to Grozny after Kadyrov's murder, Russian President Vladimir Putin called for the creation of a special-purpose Interior Ministry regiment to be deployed in Chechnya. On 19 July, Putin ordered Interior Minister Rashid Nurgaliev to complete that task as soon as possible and, on a visit to Grozny three days later, Nurgaliev announced that the regiment is almost ready. "Russkii kurer" on 21 July quoted an unnamed Chechen Interior Ministry official as saying that the new regiment "will act under the law on the police, the manual and charter of the traffic-police regiments." In a clear allusion to Ramzan Kadyrov's "presidential guard," that official added: "No spontaneous organization following its own rules will exist any longer." The new regiment will be commanded not by Ramzan Kadyrov but by Aslanbek Yasaev.
Ramzan Kadyrov thus became one of the most powerful and most feared men in Chechnya, which is presumably why he was named Chechen first deputy prime minister the day after his father's death.
Alkhanov has promised that the new regiment will be supplied with the most modern weaponry, and he said on 21 July that it will be deployed outside Chechnya to counter "terrorist attacks" if necessary. The new regiment already has at its disposal pistols, automatic rifles, sniper rifles, grenade launchers, machine guns, and even armored vehicles.A spokesman for the Chechen Interior Ministry, Ruslan Atsaev, said that the process of selecting recruits for the new regiment will continue until the end of this month, according to "Nezavisimaya gazeta" on 22 July. He said selection criteria are strict and that "almost all applicants have either graduated from high school or have secondary technical education." "Russkii kurer" reported that applicants will be screened by the Federal Security Service (FSB) and that that in order to exclude many of Ramzan Kadyrov's men, many of whom are illiterate, amnestied former resistance fighters, applicants to join the new regiment will be required to take a literacy test.
"Novye izvestiya" on 23 July quoted Khuchiev as saying that the new regiment will comprise exclusively ethnic Chechens. The paper quotes unnamed sources as saying that an analogous ethnically homogenous regiment is being created in Ingushetia in the wake of last month's attacks by Ingush and Chechen militants.