U.S.-Russia: 'Not Enemies, Not Yet Allies' -- Ivanov, Rumsfeld Work At Intensifying Relations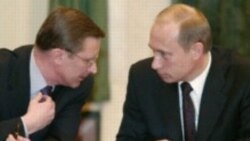 Sergei Ivanov with Putin (file photo) Not enemies, but probably not yet allies. That's how Russian Defense Minister Sergei Ivanov characterized relations between Russia and the United States following two days of talks in St. Petersburg with U.S. Defense Secretary Donald Rumsfeld. Ivanov said the two countries share a common interest in dealing with threats from terrorism and the proliferation of weapons of mass destruction. At the same time, he said Russia is not pleased with the way NATO has arrived on its doorstep via the Baltic republics. Even so, the two ministers agreed on joint naval exercises next month, and had a thorough exchange of views on Iraq and other topics.
Prague, 16 August 2004 (RFE/RL) -- Russian Defense Minister Sergei Ivanov neatly encapsulated the state of relations between Moscow and Washington with his comment to journalists yesterday in St. Petersburg. He said the two countries are "certainly not enemies but, probably, not allies yet."
More than a decade after the end of the Cold War, U.S.-Russian ties have lost that centrality in world affairs which characterized them for the previous half-century. A sense of urgency is missing. As the world's sole remaining superpower, the United States has become preoccupied with the tensions and conflict surrounding Islamic extremism, while Russia has largely turned inward, beset by economic problems.
Mark Joyce is a senior analyst at the Royal United Services Institute for Defence and Security Studies, a U.K.-based think tank. "If you go back and look at the transcripts of the discussions between Rumsfeld and Ivanov two years ago, lots of the same sorts of things were being said, and it does not seem as though there has been much progress since then on issues like missile defense and the [Anti-Ballistic Missile] Treaty," he told RFE/RL. "I think the reasons for that are reasonably clear. The U.S. clearly does have higher strategic priorities at the moment."
"The United States has always had to tread very carefully in terms of citing the war on terrorism as an area in which they have common ground with the Russians, because it does inevitably bring up the Chechen issue." - Joyce
Ivanov suggested in his St. Petersburg remarks that concerns over terrorism and the spread of weapons of mass destruction are common factors binding the former Cold War rivals. Ivanov's reference to Moscow's fight against terrorism is an oblique reference to the separatist insurgency in Chechnya.
In interviews with the Russian media, Rumsfeld spoke in positive terms about the continuing development of U.S.-Russian relations, and also referred to the war on terrorism as being a focal point of those ties. But analyst Joyce says there are strict limits to how far commonality on the terrorism issue can go.
"The United States has always had to tread very carefully in terms of citing the war on terrorism as an area in which they have common ground with the Russians, because it does inevitably bring up the Chechen issue. And the [Americans] are clearly very uncomfortable with the way in which the Russians have handled that," Joyce said.
Joyce says there is not a great deal of consensus on other subjects, including the U.S.-led invasion of Iraq, which was strongly opposed by Moscow. But Iraq's past was apparently not an issue in the St. Petersburg talks. The discussions focused instead on present developments in the country, where the United States is trying to create a democratic state amid continuing violence and tension.
Moscow is now a backer of the latest UN Security Council resolution on Iraq, which calls for international engagement in its reconstruction.
One issue which Rumsfeld and Ivanov did not see in the same light was NATO's expansion earlier this year to include the Baltic republics of Estonia, Latvia, and Lithuania. Rumsfeld says there is no need for friction between NATO and Russia over the Baltic states, which are former Soviet republics.
Ivanov described his attitude toward NATO's eastward enlargement as "calmly negative." He said that in military terms, the handful of NATO warplanes deployed in the Baltics do not pose a threat to Russia's security. The problem lies, Ivanov said, not so much with the planes themselves, but in the purpose of stationing them there. "What action could they take against Al-Qaeda or the Taliban from there?" he asked rhetorically. The only thing they can intercept is what he called a "mythical Soviet threat."
"NATO's security has not increased with the Baltic nations joining NATO. Those countries are consumers, not providers of security," Ivanov said.
However, judging from opinion polls, the citizens of the Baltic republics are glad to be in the alliance. Commentator Anvar Samost of the Baltic News Service in Tallinn said Ivanov is playing an "old card."
"This Russian rhetoric is very familiar to anyone who has memories from the early 1980s or even 1970s, because it is typical of the rhetoric which the Soviet Union previously -- and Russia now -- always uses towards NATO. It is quite similar to what Russia has always said about Turkey being a member of NATO, or Norway. Those NATO countries which have a border with Russia or [previously] the Soviet Union have always made Moscow very uncomfortable, and Russia has always wanted to show that those countries are liabilities to NATO, rather than assets," Samost said.
Samost said the facts of history -- in which the Baltic republics have mostly had to live squeezed between powerful and acquisitive neighbors -- have given the region's citizens a healthy skepticism. "The more Russia criticizes Estonia, Latvia, and Lithuania for being members of NATO, the more it will show to ordinary people [in the Baltics] that this organization is really worth being a member of," he said.