School Siege In North Ossetia Over, Many Casualties Reported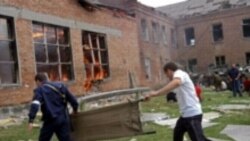 3 September 2004 -- The hostage drama at a school in southern Russia has come to a dramatic end. Casualty figures are still unclear after troops earlier today stormed the building where militants had been holding several hundred hostages, including many children, for more than two days.
There are reports of an estimated 100 bodies in the sports hall of the North Ossetian school after a hostage siege ended in violence. There were no immediate details of the identities of the dead.
Previous reports said at least five children and seven adults were killed and more than 300 others wounded. Television pictures earlier today showed children, many of them naked, running for safety amid shooting and explosions.
Russian authorities say they now have control of the school, but gunfire could still be heard at the scene several hours later.
There are also unconfirmed reports that as many as 13 of the hostage takers may have escaped in the confusion.
(compiled from agency reports)
For full coverage on the hostage situation in North Ossetia, see RFE/RL's webpage on Ossetia.