Analysis: The Problem With Iran's Diploma Mills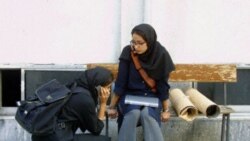 President Hojatoleslam Mohammad Khatami marked the 22 September beginning of the Iranian academic year with a speech in which he said his administration has done everything within its power to improve the state of the education sector, state radio reported. Yet recent reports about the activities of a foreign university's Iranian branch reflect several problems that have not been resolved. First, this reflects the hope that a university education will make it easier to get a job in a country with double-digit unemployment. Second, this reflects the tremendous demand for a limited number of university places -- young Iranians surveyed recently described their greatest problem after employment as the university entrance exam, the Iranian Labor News Agency (ILNA) reported on 1 May. Third, it reflects a corrupt system in which state officials use fake academic credentials to receive higher salaries.
Tehran Province Justice Department spokesman Abbasali Alizadeh said on 14 September that the Ministry of Science, Research, and Technology does not recognize degrees from the American University of Hawaii, the Islamic Republic of Iran News Network reported. The university, which utilizes distance learning and has its worldwide headquarters in Hawaii, has offices in Tehran (see the institution's website at http://www.auhiran.com). A few days earlier, Alizadeh said the institution's chancellor, Ardeshir Qassemlu, is banned from leaving Iran and his accounts have been frozen, "Resalat" reported on 9 September.

This is only the most recent effort to close down this institution. A former instructor, Hushang Nasserzadeh, told Radio Farda on 20 September that over the last two or three years the government issued warnings in the broadcast and print media that this institution is illegal and it even refused to use the word "university" (http://www.radiofarda.com/iran_article/2004/9/ba6bf4eb-256a-41cc-96a1-a2a06b16198d.html). Nasserzadeh added that the institution's chancellor, Ardeshir Qassemlu, reassured him that he has all the necessary licenses.

The director-general for legal affairs at the Ministry of Science, Research, and Technology, Morteza Shahbazinia, said the American University of Hawaii has been in Iran for about 10 years, but it has no credibility and "there are few countries where the credentials from this university are accredited," "Kayhan" reported on 9 September. The institution reportedly issued some 8,000 degrees in exchange for tuition that ranged from 50 million to 120 million rials (about $6,300-$15,000), but no actual academic activities took place.

Nor is this chancellor Qassemlu's first run-in with the law. Shahbazinia said Qassemlu -- whose only academic degree is one issued by his own institution and who previously worked in real estate -- was sentenced to one year in prison on a fraud conviction. The appeals court overturned the conviction, and Shahbazinia suggested that it is not a coincidence that many of the institution's graduates work for the Tehran Province Justice Department.

This time the Ministry of Science, Research, and Technology has coordinated its activities with those of the Ministry of Health, Treatment, and Medical Education, because the institution is issuing medical degrees.

The Iranian branch of the American University of Hawaii, "Kayhan" reported on 5 September, has never tried to get a permit from the Ministry of Science, Research, and Technology. It is registered on Kish Island.

Nasserzadeh told Radio Farda that the institution issued degrees in exchange for money in order to satisfy people's egos. This is part of a phenomenon called "madrak gerayi," roughly translated as "degree-ism." A higher degree is not just a matter of prestige and ego, however, because officials with doctorates are eligible for higher salaries and positions on the basis of those credentials.

The case of the American University of Hawaii is just the most recent example of a diploma mill operating in Iran. The Ministry of Science, Research, and Technology's Shahbazinia told "Kayhan" that the Russian Voronezh State University's branch in Iran (http://www.vsu-th.com/) has been sentenced to a fine and closure, and evidence is being collected against the Eastern Studies Institute, which is affiliated with France's Sorbonne University. Shahbazinia added that a complaint has been filed against the Isfahan unit of the Comprehensive University of Applied and Practical Sciences. In this last case, the Isfahan Province Justice Department has rejected the complaint, and the institution continues to conduct examinations in the name of the ministry.