Interview: Bosnian Serb Leader Goes Online With RFE/RL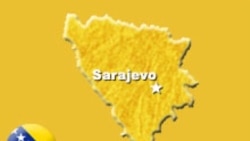 In an exclusive online interview with users of RFE/RL's South Slavic and Albanian Languages Service website on 7 October, former Bosnian Serb Prime Minister Milorad Dodik, who heads the nonnationalist Alliance of Independent Social Democrats (SNSD), said that Kosovo's Serbs should take part in the 23 October parliamentary elections. He argued that the Bosnian Serbs have learned the hard way that boycotting elections is a "crude mistake" that only harms the interests of those conducting the boycott.
Dodik also slammed the ultranationalist idea of setting up an exclusively Serbian national state, arguing that such suggestions are "anti-European" and bound to halt the development and progress of those who, in effect, isolate themselves.
Regarding former Bosnian Serb leader and indicted war criminal Radovan Karadzic, Dodik said that "he must go to The Hague. It doesn't matter whether he goes voluntarily or is arrested." Dodik argued that all individuals responsible for war crimes must be punished, and that it is wrong to blame an entire nation -- any nation -- for atrocities.
Radovan Karadzic "must go to The Hague. It doesn't matter whether he goes voluntarily or is arrested."
Dodik stressed that there is no sound political life without a good economy, and that the best political approach is one of economic development. "I support economic projects just as I know that there cannot be economic development without the right political conditions."
Asked about a possible volunteer army, Dodik replied: "I have no vision for a future army. I think that the army has to be abolished in Bosnia-Herzegovina. We have always advocated the demilitarization of Bosnia."
The SNSD was the only nonnationalist party to make clear gains at the expense of the nationalists in the 2 October Bosnian local elections (see "RFE/RL Newsline," 4 October 2004, and "RFE/RL Balkan Report," 24 September 2004).