Al-Fallujah Seige Continues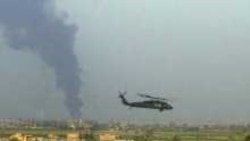 11 November 2004 -- U.S. warplanes and artillery bombarded Al-Fallujah today as U.S. and Iraqi ground troops continue fighting to drive militants from the city.
As the battle continued, the Pentagon's top general, Richard Myers, said that "hundreds and hundreds of insurgents" have been killed or captured since the U.S.-led siege began on the night of 8 November.
The Associated Press and Reuters news agencies quoted unidentified U.S. military officials as saying more than 500 insurgents have been killed so far. Some 13 U.S. troops have been killed in the battle. The U.S. military says it has no figures on numbers of civilians killed or wounded.
Elsewhere in Iraq, car bombs blew up in Baghdad and in Kirkuk, killing at least 17 people and injuring over 30 others.
In Mosul, the U.S. military said insurgents attacked police stations in several parts of the city, overwhelming "the capabilities of the existing police force."
(Reuters/AFP/AP/dpa)
[For the latest news on Iraq, see RFE/RL's webpage on "The New Iraq".]