Analysis: Abkhaz Standoff Turns Violent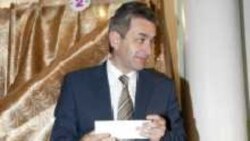 Former Prime Minister Khadjimba voting on 3 October Several people were injured, one seriously, on 12 November when supporters of Abkhaz presidential candidate Sergei Bagapsh forced their way into the building in Sukhum that houses the government and presidential offices, proclaiming Bagapsh the winner of the 3 October ballot to elect a successor to outgoing President Vladislav Ardzinba.
The incident was the most dramatic to date in the six-week deadlock that followed the 3 October election. On 11 October, the Abkhaz Central Election Commission announced that Bagapsh, a former prime minister who now heads the energy concern Chernomorenergo, won the ballot with 50.08 percent of the vote, defeating four rival candidates. But Bagapsh's closest challenger, then Prime Minister Raul Khadjimba, appealed that ruling to the Abkhaz Supreme Court, claiming widespread falsification of the ballot. After repeated postponements, the Supreme Court first upheld on 28 October the election commission ruling that Bagapsh won the ballot, then rescinded its own decision less than 24 hours later under pressure from Khadjimba's supporters. Also on 29 October, Ardzinba, who on 18 August publicly endorsed Khadjimba as his preferred successor, issued a statement calling on the commission to schedule repeat elections -- which under the Abkhaz Constitution only the parliament is empowered to do.
Khadjimba backed Ardzinba's argument that only a repeat vote can resolve the deadlock, while Bagapsh continued to insist that he is the legally elected president, and has scheduled his inauguration for 6 or 7 December. Both men visited Moscow last week where they met with senior Russian security officials who reportedly tried to pressure Bagapsh to agree to a repeat election, which he refused to do. Bagapsh told journalists in Sukhum on 3 November that he hopes to reach a compromise agreement with Khadjimba. In an interview published in the Russian daily "Vremya novostei" on 10 November, Bagapsh said he offered Khadjimba any ministerial post he chose in a Bagapsh government, but Khadjimba failed to respond to that offer.
Both men visited Moscow last week where they met with senior Russian security officials who reportedly tried to pressure Bagapsh to agree to a repeat election, which he refused to do.
Bagapsh also said on his return from Moscow that he sees two alternative ways to resolve the deadlock: either the Abkhaz parliament (most of whose 35 members support Bagapsh) should rule on the legality and validity of the 3 October ballot, or Bagapsh would convene a "pan-national assembly" to decide on the future president. Such assemblies were traditionally held at the sacred grove at Lykhny during times of crisis in Abkhazia, and decisions reached at such gatherings were considered to have the force of law. But a member of Ardzinba's staff told ITAR-TASS on 11 November that the Abkhaz Constitution does not recognize the legitimacy either of a pan-national assembly or any decision adopted at such a gathering.
Bagapsh duly scheduled such a pan-national gathering for 1 p.m. local time on 12 November on Liberty Square in Sukhum; Khadjimba called a rival meeting of his supporters one hour earlier outside the central government building. Both meetings attracted some 3,000 supporters, according to ITAR-TASS; Bagapsh and Khadjimba met earlier on 12 November but again failed to reach a compromise agreement.
Nodar Khashba, whom Ardzinba named to succeed Khadjimba as prime minister on 6 October, was forced to flee the government building as the demonstrators forced their way in; his whereabouts and that of Ardzinba is not known. Bagapsh's supporters began to disperse after he appealed to them to "remain calm" and to "preserve peace and stability," Caucasus Press reported. He said he will embark tomorrow on a political dialogue with all forces that hope for Abkhazia to flourish. He reaffirmed that "we will come to power legally." Describing Khadjimba as "a younger brother and friend," he said he "will do all in my power to make him a member of my team."
[For the latest news on the tensions in Abkhazia, see RFE/RL's webpage on Abkhazia and Georgia.]