Violence Flares In Iraq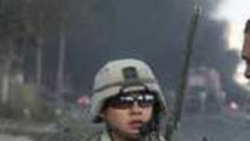 (file photo) 18 November 2004 -- More than 20 people have been reported killed in attacks and fighting in predominantly Sunni Muslim areas of Iraq.
In the worst incident yesterday, in Baiji, north of Baghdad, at least 14 Iraqis were reported killed in a suicide bombing targeting a U.S. military convoy. Three U.S. soldiers were reported injured.
In Al-Ramadi, at least seven Iraqis were reported killed in gun battles between militants and U.S. forces.
In Al-Fallujah, U.S. forces say they remain in control of the city, though operations continue against small groups of insurgents.
U.S. military officials said conditions are calmer in the northern city of Mosul following increased U.S. and Iraqi operations against insurgents.
(Reuters/AP/AFP)
[For the latest news on Iraq, see RFE/RL's webpage on "The New Iraq".]