Car Bomb In Baghdad; Iraqi Forces Storm Mosque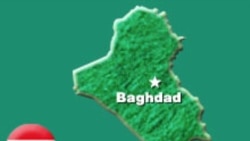 19 November 2004 -- A suicide car bomber rammed into a police patrol in Baghdad today destroying several cars and killing at least one policeman, as Iraqi forces stormed one of the major Sunni Muslim mosques in Baghdad after Friday prayers, killing at least two people.
The car-bomb blast occurred in the restive Palestine Street district as policemen were setting up a checkpoint. Several other policemen were injured.
Meanwhile, witnesses said that about 40 people were arrested during the raid at the Abu Hanifa Mosque in the capital's northwestern Azamiyah neighborhood.
The purpose of the raid was not immediately clear. The Abu Hanifa Mosque has long been associated with anti-U.S. agitation and support for the former regime.
In the northern town of Mosul, Iraqi special police and U.S. forces raided a hospital which they said had been used to treat insurgents wounded in recent fighting.
And finally, the International Committee of the Red Cross (ICRC) accused both sides in recent fighting in Al-Fallujah of what an ICRC official called "utter contempt" for their obligation to protect human life and dignity.
(compiled from wire reports)
[For the latest news on Iraq, see RFE/RL's webpage on "The New Iraq".]