Russia Warns OSCE On Budget Contribution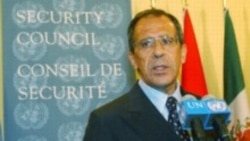 Russian Foreign Minister Sergei Lavrov (file photo) 7 December 2004 (RFE/RL) -- A two-day meeting of foreign ministers from the Organization of Security and Cooperation in Europe's (OSCE) member states today heard a warning from Russian Foreign Minister Sergei Lavrov that Moscow might withhold its budget contributions unless the organization changes its operating methods.
An OSCE spokesman said the Russian statement came after a heated meeting last night at which Russia objected to OSCE's approach to the Ukrainian crisis and the question of Russian troops in Georgia and parts of Moldova.

Russia also objected to OSCE's election-monitoring operations. It criticized OSCE's position that the recent elections in Belarus were not democratic.

"Russia yesterday, in response to proposal of our partners, proposed a text which supported the following -- the necessity of avoiding the use of violence in the current situation in Ukraine, the necessity avoid any threats which unfortunately find a place among some of the participants in the process in Ukraine, and the necessity of fully respecting the sovereignty and territorial integrity of Ukraine, and avoiding interference in its internal affairs and respect for the right of the Ukrainian people to solve their problems independently, based on the constitution and the laws," Lavrov said.

Because of these differences Russia refused to agree to a final document of the two-day meeting. Instead the chairman, Bulgarian Foreign Minister Solomon Pasi, delivered a closing statement summarising the areas on which the 55 states did agree.

An OSCE spokesman said tonight that Russia made a commitment in 1999 to withdraw its forces from Moldova, including the Transdniester region.

Russia has not withdrawn the troops.

Earlier today, U.S. Secretary of State Colin Powell criticized Russia for failing to withdraw its troops from Moldova.