Exit Polls Show Virtual Tie In Romanian Presidential Race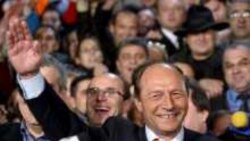 Opposition candidate Basescu claiming victory 13 December 2004 -- Romanian Prime Minister Adrian Nastase and Bucharest Mayor Traian Basescu have both claimed victory in a presidential runoff after exit polls showed them in a dead heat.
Basescu (
Profile: Traian Basescu
) arrived at University Square in downtown Bucharest shortly after midnight. Hundreds yelled, "we won!" He urged supporters to go home and return today to celebrate after results are published.
His opponent Nastase (
Profile: Adrian Nastase
) insisted, "I will be a strong president." He also said he is waiting for the final results.
At the headquarters of the Social Democratic Party -- the former communists -- dozens of Nastase's supporters rallied last night chanting, "We fight, we fight, and we win."
Authorities will release partial results today, with final results expected on Wednesday (15 December).
President Ion Iliescu urged Basescu to wait for final results before celebrating.
Both candidates support EU membership.
(AP)