Blast In Iraqi Holy City Kills At Least Seven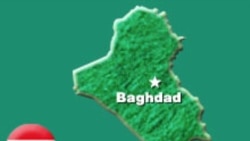 15 December 2004 -- A bomb explosion today in the holy city of Karbala in central Iraq killed at least seven people and wounded more than 30 others.
Reports said the bomb went off not far from the Imam Ali mausoleum, a revered Shi'a shrine.
Sheikh Abd al-Mahdi Karbalai, a local representative of Grand Aytollah Ali al-Sistani, Iraq's most influential Shi'ite cleric, was believed to be among the wounded.
The attack in Karbala came as candidates in the January elections were allowed to begin their campaigns today.
Some 80 parties and coalitions are contesting 275 parliamentary seats in what will be the first election held in Iraq since the toppling of Saddam Hussein.
The main task facing the transitional legislature will be to appoint a government and draft a constitution prior to general elections.
(Reuters/AFP/dpa)
[For the latest news on Iraq, see RFE/RL's dedicated webpage, "The New Iraq".]