U.S. Troops Detain Guerrillas In Iraq Raid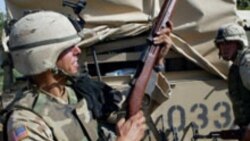 (file photo) 1 January 2005 -- The U.S. military has said its troops yesterday detained 49 suspected guerrillas near former Iraqi leader Saddam Hussein's hometown of Tikrit.
The suspects were picked up during a raid in Duluiyah, 75 kilometers north of Baghdad. The military provided no further details about the raid.
Also yesterday, two Iraqi civilians were killed and four Iraqi National Guardsmen wounded when rebels detonated a car bomb in Beiji, some 250 kilometers north of the capital.
And a roadside bomb exploded near a U.S. military convoy in Baghdad. No injuries were reported.
Insurgents have been intensifying attacks against U.S.-led multinational forces ahead of Iraq's 30 January national elections.
More than 500 U.S. soldiers have been killed in Iraq during the past six months. The deadliest month was November, when 141 soldiers died, many of them in the assault against insurgents in Al-Fallujah.
(AP/AFP)
For the latest news on Iraq, see RFE/RL's webpage on "The New Iraq".