Bomb Kills 14 Near Baghdad Shi'a Mosque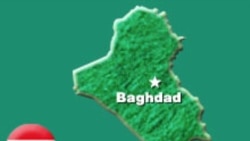 21 January 2005 -- Reports say at least 14 people were killed and 40 wounded today when a car bomb exploded near a Shi'a Muslim mosque in Baghdad before Friday prayers.
The car exploded outside the Al-Taf Mosque in southwestern Baghdad, where Shi'ites were celebrating the Eid Al-Adha, or the Feast of the Sacrifice, one of the most important Islamic holidays.
Police and hospital sources said casualties included women and children.
Meanwhile, the U.S. military said one U.S. soldier was killed and another injured today during predawn raids on suspected Iraqi insurgent hideouts north of Baghdad.
Elsewhere, gunmen reportedly attacked a police station in the western Iraqi town of Hit, chasing away the police and stealing their weapons. No one was killed or wounded.
(Reuters/AFP/AP)
[For news, background, and analysis on Iraq's historic 30 January elections, see RFE/RL's webpage "Iraq Votes 2005".]