Yushchenko Sworn In As Ukrainian President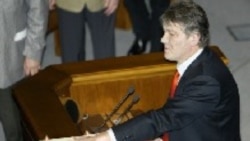 Yushchenko taking a symbolic oath during protests in November 23 January 2005 -- The inauguration ceremony for the new president of Ukraine, Viktor Yushchenko, is under way in Kyiv.
Yushchenko is to take the oath of office in parliament before addressing a crowd in Kyiv's Independence Square. Thousands of people have been gathering in the square.
The inauguration comes after a long battle for the presidency with ex-Prime Minister Viktor Yanukovych. Yushchenko defeated Yanukovych in an election rerun last month after the Supreme Court threw out Yanukovych's victory in November's vote because of electoral fraud.
U.S. Secretary of State Colin Powell said as he prepared to attend the inauguration that the U.S. is ready to provide assistance for Ukraine.
Other senior Western officials including NATO chief Jaap de Hoop Scheffer and Polish President Aleksander Kwasniewski will also attend Yushchenko's swearing ceremony.
(AFP)
[For more RFE/RL coverage and analysis of the political crisis in Ukraine, click here.]