Iraqi Judge Assassinated In Baghdad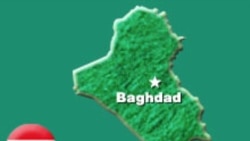 25 January 2005 -- Armed assailants killed an Iraqi judge as he was leaving his home in Baghdad today.
The judge, identified as Qais Hashim Shameri, was killed along with his bodyguard. His driver was also wounded in the attack.
It was the latest killing in a campaign by militants seeking to disrupt the Iraqi national elections slated for 30 January. Many of the attacks have targeted government and police officials.
European Union foreign policy chief Javier Solana yesterday said it would be a "disaster" if boycotts called for by some Sunni leaders or intimidation by militants keep Iraqis from the polls.
(Reuters/AP)
For news, background, and analysis on Iraq's historic 30 January elections, see RFE/RL's "Iraq Votes 2005" webpage.