Iraqi Expatriates Begin Voting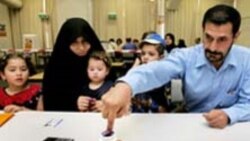 An Iraqi man is watched by his wife and family as he prepares to vote in Australia today 28 January 2005 -- Thousands of Iraqis living outside their native country began casting absentee ballots today at special polling stations in 14 countries around the world.
Some 280,000 Iraqis living abroad have registered to vote. Early turnout was reported to be enthusiastic in several cities. In Berlin, 80 Iraqis cast their ballots in the first hour of voting. Good initial turnout was being reported in London, Tehran, Ankara, Amman, and other voting locations.
Iraqis living in Iraq are due to vote on 30 January, but continuing violence is the biggest worry.
Earlier today, police say a car bomb exploded in southern Baghdad, killing four people.
Yesterday, some 20 people were killed in a series of attacks involving rockets, roadside explosives, and suicide car bombs.
(Reuters/AP)
For news, background, and analysis on Iraq's historic 30 January elections, see RFE/RL's webpage "Iraq Votes 2005".