Bush: Iraqi Elections 'Voice Of Freedom'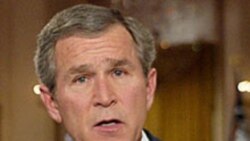 President Bush praised voters' bravery (file photo) 31 January 2005 -- U.S. President George W. Bush called yesterday's elections in Iraq a success and promised the United States would continue trying to prepare Iraqis to secure their own country.
Bush said at the White House that "the world is hearing the voice of freedom from the center of the Middle East." He made the brief comments four hours after the polls closed.
Bush praised the bravery of Iraqis who turned out to vote despite continuing violence and intimidation. He said they "firmly rejected the antidemocratic ideology" of the insurgents.
(AP/AFP)
For news, background, and analysis on Iraq's historic 30 January elections, see RFE/RL's webpage "Iraq Votes 2005."