Iran: Tehran's Rejection Of EU Offer Signals Difficulty Of Talks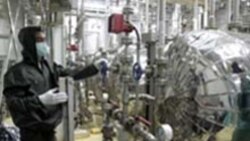 International efforts aimed at convincing Iran to give up its nuclear ambitions appeared to suffer a setback yesterday when Iran rejected a European offer of a light-water nuclear reactor. The reactor would have been provided in exchange for Iran giving up construction of a heavy-water reactor that could also be used to make nuclear weapons material.
Prague, 14 February 2005 (RFE/RL) -- The rejection was the clearest indication yet of unresolved differences between Iran and European negotiators seeking to end to Iran's uranium-enrichment activities.
Iran welcomed the EU offer but said it would never give up the heavy-water reactor. Foreign Ministry spokesman Hamid Reza Assefi said Iran is planning to become a major supplier of nuclear fuel in the future and Iran has said before it needs the heavy-water reactor for research and development.
France, Germany, and Great Britain, sometimes known as the EU Three, are leading a diplomatic effort to convince Tehran to give up uranium-enrichment activities in exchange for economic and trade benefits.
Dr. Mohammad Reza Djalili, a professor of international politics at the Graduate Institute of International Studies in Geneva, told RFE/RL there are two possible scenarios behind Iran's decision to reject the offer.
"[Tehran] is either taking a harder line and it can have a negative impact on the negotiations, or the second scenario is that Iran is taking this stance [to strengthen its position] and get more trump cards in the next round of talks. Has Iran really rejected the EU offer definitely or it has rejected it for the time being to see if the Europeans make another offer? These [games ] exist in international negotiations," Djalili said.
Many are warning of a deadlock in the talks if the European negotiators continue to put strong pressure on Iran to give up elements of its nuclear program and if Iranian officials continue to follow a tough line with the EU.
Yesterday, German Foreign Minister Joschka Fischer warned that if Tehran resumed uranium enrichment, its case would be referred to the UN Security Council for possible economic sanctions. He also urged Iran to eliminate the risk of going nuclear.
"The proliferation on a state level has great importance and so we hope that the efforts of the EU Three to convince Iran to distance itself from further uranium enrichment and to permanently eliminate the risk of going nuclear [will succeed]. We aim for close cooperation with our trans-Atlantic partners and a common strategic move," Fischer said.
"Has Iran really rejected the EU offer definitely or it has rejected it for the time being to see if the Europeans make another offer?" - Dr. Djalili
Iran says its nuclear program is solely for peaceful purposes, but the United States has accused Iran of pursuing a nuclear-weapons program.
In November, Tehran agreed to temporarily suspend uranium enrichment as a goodwill gesture. Since then, Iranian officials have repeatedly said the suspension should not last longer than a few months and that the talks should reach concrete results.
The last round of nuclear talks between Iran and the EU countries ended on 11 February in Geneva. No date has been officially announced for the next round of negotiations.
Iran's nuclear negotiator, Hussein Musavian, has said Tehran may sign a framework agreement on its nuclear program with the EU Three by the end of May.
Djalili said it is too early to say if Iran and the EU countries will reach an agreement. He added, however, that any deal would have to have the full backing of the United States if it is to be workable -- even for controversial elements of the EU package such as Iran joining the World Trade Organization.
"Without any doubt these negotiations will reach a stage where the U.S. would have to agree with them. The Europeans are constantly keeping the U.S. informed about the talks. But if the negotiations continue positively and there is at last a positive agreement between the two sides, then we have to see if the U.S. would agree with Iran joining the World Trade Organization in the future or not. It's possible that the European countries would agree, but if the U.S. vetoes Iran's membership, then the EU arguments will have no effect," Djalili said.
EU officials have called on the United States to actively support the EU diplomatic efforts with Iran.