Blasts Near Shi'ite Mosques In Baghdad Kill, Wound Many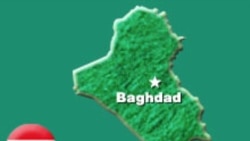 18 February 2005 -- Two bomb blasts have killed at least 15 and wounded many others near Shi'ite mosques in Baghdad today.
The first blast appears to have been a suicide bombing. It killed at least 14 people and wounded more than 20 others.
At least one person was killed and four others injured in the second blast, also near a mosque.
The explosions come as Iraqi Shi'ites are marking Ashura, an important date on their religious calendar as it commemorates the death of Hussein, the grandson of the Prophet Mohammed.
Last year's Ashura events in Iraq were marred by suicide bombings that killed more than 170 people.
Iraq has shut its land borders until Tuesday to bolster security for the event.
(AP/Reuters/AFP)
[For more on events in Iraq, see RFE/RL's dedicated Iraq Votes 2005 and The New Iraq webpages.]