Kyrgyzstan: Pro-Presidential Forces Emerge Strong From Elections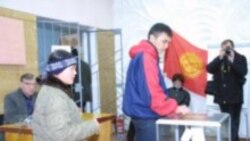 Voting on 13 March The pro-presidential majority has emerged from the second round of parliamentary voting in Kyrgyzstan yesterday with a clear victory -- at least according to preliminary official results. The new parliament is expected to maintain the kind of loyalty to President Askar Akaev that has marked much of his 14 years in power. But the opposition gained a few more seats in the new unicameral parliament. As scattered opposition protests continue against alleged electoral fraud, opposition leaders insist they have emerged from these elections stronger and more united. That could be crucial as President Akaev faces what could be his final months in power.
Prague, 14 March 2005 (RFE/RL) -- Supporters of President Askar Akaev have a clear majority in the Kyrgyz parliament following yesterday's runoff.
After the second round, roughly a third of the legislature stands firmly behind Akaev, while another third leans toward support for the president. Clear opposition candidates have won just five seats in the 75-seat chamber.
But opposition opponents charge that the vote was riddled with irregularities, saying abuses were worse in yesterday's second-round runoffs than in the first round on 27 February.
Viktor Chernomorets is the leader of the opposition Democratic Movement of Kyrgyzstan. Singling out areas where he believes the opposition was strongest, Chernomorets told RFE/RL's Kyrgyz Service in Bishkek today that the elections were deeply flawed. He alleged that bribery was among the tactics used.
"There were no equal elections in any constituencies, particularly those where members of the People's Democratic Movement and the opposition were running. On election day, in the constituency where [former Prime Minister and Akaev rival Kurmanbek] Bakiev was running, [his rivals] were giving out 500 soms [as a bribe to voters], were busing voters [to the polls]. The same -- bribing and busing -- took place here in the city [of Bishkek], in the University district [in which the president's daughter was running]," Chernomorets said.
Two of newest members of parliament are President Akaev's children. His eldest daughter, Bermet Akaeva, reportedly won a majority in the capital Bishkek's University district. Her opponent was independent journalist Bolotbek Maripov.
The OSCE said the second-round voting showed what it called "some technical improvements over the first round," but the group stressed that there remained "significant shortcomings."
President Akaev's son, Aydar, had won outright in the first round of voting on 27 Februrary with 79 percent of the vote. He will represent the Kemin district, President Akaev's birthplace.
Yesterday's reported turnout was lower than in the first round. The Central Election Commission claimed that 54 percent of eligible voters cast ballots throughout the country. But the turnout was significantly lower in Bishkek at 30 percent. Many observers said political fatigue and skepticism -- along with heavy rains -- kept voters away in the capital.
Voters in two northern districts where protests have been continuing since before the first round, Ton and Kochkor, rejected all candidates. New runoffs will have to take place there.
Edil Baisalov heads the coalition of civic groups For Democracy and Civil Society, which monitored the vote. Baisalov said yesterday that the runoffs were more flawed than the first round and marred by open and widespread vote buying and obstruction of election observers.
"Today, on election day, we have witnessed very many examples of vote buying. In several election districts, cases of voter transportation were noted. In Khursab district, our observers were attacked directly. The case is being investigated. In the second round, there are much more serious violations of law," Baisalov said.
Ishenbai Kadyrbekov, a disqualified opposition candidate, called it "the dirtiest election" he had ever seen.
Opposition Ata Meken (Fatherland) party leader Omurbek Tekebaev, who won his runoff yesterday, accused authorities of what he described as "all the traditional breaches, like vote buying and intimidation of voters."
Sulaiman Imanbaev, the head of the Central Election Commission, denied such allegations today. Imanbaev said that only a small number of improprieties were reported and would not affect the elections' outcome. He spoke at a news conference in Bishkek today.
"I think our country achieved sufficient and, one can say, clear successes in this regard [the election process]," Imanbaev said. "There weren't any serious violations or serious complaints [about violations] that could have influenced the outcome of the vote in the districts."
The Organization for Security and Cooperation in Europe (OSCE) sent 60 observers to monitor the runoffs and gave its initial assessment today. The OSCE said the second-round voting showed what it called "some technical improvements over the first round," but the group stressed that there remained "significant shortcomings." The OSCE had said the first round fell short of international standards in many areas.
Election observers from the Commonwealth of Independent States (CIS) disagreed. They have hailed yesterday's runoff elections as well organized, free, and fair. CIS observers praised Kyrgyz authorities for showing restraint and competence in dealing with political unrest in several regions of the country.
Meanwhile, demonstrations continue in southern regions of Kyrgyzstan, where many of the strongest opposition candidates were competing.
Major protests are continuing in Jalal-Abad, Uzgen, and Osh, with demonstrators blocking part of the Bishkek-Osh highway in the Jalal-Abad region.
More than 3,000 protesters in the Bakai-Ata district of the Talas province were blocking the Talas-Bishkek highway and demanding that Kyrgyz authorities resign.
The Kyrgyz opposition is preparing for a new nationwide meeting scheduled for 15 March.
Kyrgyzstan's parliamentary elections were widely regarded as a serious test for the government and the opposition ahead of planned presidential balloting in October.
Akaev is currently ineligible to run in direct elections for another term as president, although some fear he might circumvent a constitutional term limit through a referendum. If officials confirm the preliminary figures, Akaev will have won rounds one and two of this battle.
(RFE/RL's Kyrgyz Service director Tyntchtykbek Tchoroev contributed to this report.)
For news, background, and analysis on Kyrgyzstan's 27 February parliamentary elections and the demonstrations leading up to the 13 March runoff, see RFE/RL's webpage "Kyrgyzstan Votes 2005".