U.S.: Freedom House Unveils World's Worst Regimes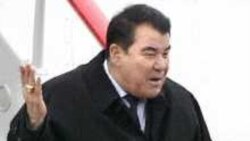 Turkmen President Saparmurat Niyazov was criticized in new report Freedom House has released its annual list of the world's most repressive regimes. Six of the 18 are members of the UN's Commission on Human Rights, which is supposed to monitor and condemn human rights violations. Others include the former Soviet republics of Belarus, Turkmenistan, and Uzbekistan.
Prague, 1 April 2005 (RFE/RL) -- The report, entitled "The Worst of the Worst: The World's Most Repressive Societies 2005," notes that six of the 18 most repressive governments are members of the UN's human rights commission.
Those are China, Cuba, Eritrea, Saudi Arabia, Sudan, and Zimbabwe.
Michael Goldfarb is a senior press officer with Freedom House. He told RFE/RL that these governments have subverted the commission's mandate.
"Countries with truly egregious human rights records managed to get themselves elected to the only United Nations human rights monitoring body," Goldfarb said. "Successfully, they work together in concert to prevent [condemnatory] resolutions passed against them. They prevent the open, legitimate and transparent debate about human rights abuses that are occurring throughout the world."
The Freedom House report also includes detailed summations of the human rights situations in Belarus, Turkmenistan, Uzbekistan.
Freedom House is a U.S.-based nongovernmental organization (NGO).
The report, released today, was excerpted from organization's forthcoming annual survey, "Freedom in the World 2005." The survey measures the state of political rights and civil liberties, and classifies countries as "Free," "Partly Free," or "Not Free."
Goldfarb says the presence of human rights violators on the UN Human Rights Commission creates a "serious crisis of credibility."
On 21 March UN Secretary-General Kofi Annan recommended that states elected to a reformed "Human Rights Council" be chosen based on their compliance with the "highest human rights standards:"
"I think if we are able to transform that into a council with members elected directly by a General Assembly two-thirds majority -- with an understanding that those elected must have credentials in the human rights area and commitment to be able to hold up human rights standards -- we are likely to do better," Annan said.
The Freedom House report also includes detailed summations of the human rights situations in Belarus, Turkmenistan, and Uzbekistan. Goldfarb explained: "We saw rigged elections in Belarus recently. You have very, very high restrictions of political rights and banned political parties in Uzbekistan. In Turkmenistan there's essentially no rights. It's really the most repressive Central Asian republic. So you have these commonalities on severe restrictions on political rights in these states."
The report says Belarusian President Alyaksandr Lukashenka further consolidated his "personal dictatorship" in 2004. It notes that the recent elections and a parallel national referendum that lifted a two-term restriction on the presidency saw voter irregularities, tight control of mass media, and "intense pressure" on opposition and civic activists.
On Turkmenistan, the document says the government of President Saparmurat Niyazov continued its campaign in 2004 against real and perceived opponents of the regime.
The report says repression against media outlets and foreign-based NGOs working in neighboring Uzbekistan intensified during the year, partly in an effort to stifle dissent in advance of the December parliamentary elections.
The "Worst of the Worst" report also includes the Russian territory of Chechnya. It says the war there continued to victimize civilians through acts of terrorism, "disappearances," and war crimes perpetrated by various parties to the conflict.
It adds that residents do not have the means to change their government democratically. On 29 August, after an election to fill the post of the assassinated president, the authorities declared the former interior minister, Alu Alkhanov, president.
The report is available at http://www.freedomhouse.org/media/pressrel/033105.htm