Ousted Kyrgyz President, Government At Impasse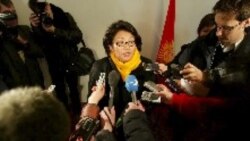 Otunbaeva: Akaev's 'plundered' property to be seized Prague, 2 April 2005 (RFE/RL) -- Kyrgyzstan's new government and ousted President Askar Akaev appeared today to be at an impasse.
Akaev said in Moscow yesterday in separate interviews with RFE/RL's Kyrgyz and Russian services (see
Former Kyrgyz President Akaev Calls Ouster 'Putsch'
) that he wants to return to Bishkek to resign as president in front of Kyrgyzstan's parliament.
"I want to help the current leadership. I am ready to come and give a speech in front of the parliament and, in the interest of the people and the state, announce my decision to resign prematurely," Akaev said.
Akaev also levied two conditions for resigning: security guarantees for himself and his family, and adherence to the Kyrgyz Constitution and laws.
However, Foreign Minister Roza Otunbaeva says that Kyrgyzstan's new government is unable to offer valid security guarantees. She said yesterday that Akaev might be attacked by a mob if he returns.
She said also that Kyrgyzstan's new government plans to seize property held by Akaev, his family, and friends that, she said, was "plundered" from the Kyrgyz people.
(RFE/RL, Agencies)