Iraq: Muqtada Al-Sadr Returns To Political Scene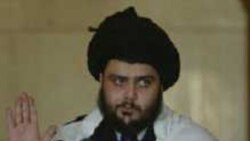 Muqtada al-Sadr (file photo) Radical Shi'ite cleric Muqtada al-Sadr is back, riding on a wave of Iraqi discontent with foreign troops and the lack of law and order in the country. In a demonstration organized by al-Sadr last week, tens of thousands flocked to Baghdad demanding that U.S. troops leave. The demonstration was the largest since the U.S.-led invasion in 2003. Even though al-Sadr officially boycotted recent parliamentary elections, his movement is a strong force outside the elected body. Many also believe that al-Sadr's Al-Mahdi Army did not disarm last October after several months of bloody fighting with U.S. troops.
Prague, 15 April 2005 (RFE/RL) -- Muqtada al-Sadr's movement is capitalizing on popular discontent with the U.S.-led occupation.
Yahia Said, a researcher on Iraq and other transitional nations at the London School of Economics, told RFE/RL that the United States has been slow to present a withdrawal schedule and the Iraqi government is unwilling to press the issue.
Said said that the size of the recent demonstration indicates that there is a groundswell of popular support for the withdrawal of foreign troops. He said that al-Sadr is exploiting this situation, perhaps with a view to winning the next elections.
"Opinion polls suggest that around 60 percent -- between 50 and 60 percent -- of Iraqis want foreign troops out of the country as soon as possible. And they expect the government to do something about it, the elected government," Said said.
Said said that although al-Sadr's movement officially boycotted the January parliamentary elections, it has some two dozen sympathizers in parliament. Most of those, he said, are within the ranks of the dominant Shi'ite United Iraqi Alliance bloc.
One of those sympathizers, Salam al-Maliky, this week read out to the assembly al-Sadr's key demands. They include the withdrawal of foreign troops, the speeding up of Saddam Hussein's trial, and the release of Iraqis held in U.S.-run prisons.
Even though al-Sadr is not in parliament, Said said he has a lot of political influence. Al-Sadr is also believed to have good relations with the Sunni Association of Muslim Clerics.
Despite al-Sadr's demands and the growing support for an end to the military occupation, it doesn't look like U.S. or coalition troops are leaving any time soon.
Said said that al-Sadr's political weight is partly due to his militia, the Imam Al-Mahdi Army, still being a fighting force. "Nobody disarms in Iraq, unfortunately," he said. "All these politicians keep militias ready at hand in case the political process doesn't go the way they like. It's an insurance policy."
Said added that there could be a crisis if the Al-Mahdi Army resurfaces.
Other analysts, however, are not convinced of the extent of al-Sadr's influence. David Hartwell is Middle East editor at "Jane's Sentinel Security Assessments." He is not sure that al-Sadr is as influential as the antioccupation demonstration might indicate.
Also, Hartwell said, al-Sadr's demands for U.S. withdrawal are not as radical as they might seem, as many parties now in parliament have this demand in their election programs. "I think the parties already within the parliament will probably articulate most of what al-Sadr is saying," he said. "I think al-Sadr is able to mobilize those closest to him and to those from Al-Sadr City [a district of Baghdad]."
Despite al-Sadr's demands and the growing support for an end to the military occupation, it doesn't look like U.S. or coalition troops are leaving any time soon.
During a surprise visit to Baghdad this week, U.S. Defense Secretary Donald Rumsfeld said that there was no exit strategy in place for the some 140,000 U.S. soldiers stationed in Iraq. Rumsfeld said that their exit depends on the readiness of Iraqi security forces, who are being trained by the Americans. The country's new leadership has also said Iraqi forces are unprepared to take over from U.S.-led troops.
"Jane's" Hartwell says the United States wants to pull out troops only when the insurgency is brought under control. "I think they are very, very anxious not be seen to be getting out before the insurgency has been, as they say, brought under control, or at least brought to a level that is manageable for the Iraqi security forces to take over," he said.
In the last two days, Iraq has experienced a surge of violence, with more than 35 people killed. The violence yesterday included the deaths of at least 15 people in two suicide car bombs in central Baghdad. Jordanian radical Abu Mus'ab al-Zarqawi claimed responsibility for the attacks.
The analysts agree that Iraqi politicians understand that without foreign troops the country could well disintegrate into civil war.
For the latest news and analysis on Iraq, see RFE/RL's webpage on "The New Iraq".