Armenia Says Talks Step Forward, Denies Agreement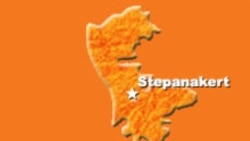 Prague, 19 May 2005 (RFE/RL) -- Armenian Foreign Ministry spokesman Hamlet Gasparian said in a statement released in Yerevan on 18 May that the meeting in Warsaw three days earlier between Armenian President Robert Kocharian and his Azerbaijani counterpart Ilham Aliyev constituted "yet another step forward in the resolution of the Karabakh conflict," RFE/RL's Armenian Service reported.
Gasparian added that Warsaw meeting "makes it possible to continue the discussions" between the two countries' foreign ministers that began one year ago.

On 17 May, the French, Russian, and U.S. co-chairmen of the Organization for Security and Cooperation in Europe (OSCE) Minsk Group that mediates the search for a solution to the Karabakh conflict released a statement noting that the two presidents "confirmed their strong interest in reaching a peaceful, negotiated solution of the conflict." The co-chairs added that they "are mapping a schedule of consultations with the parties for the months ahead."

In the same 18 May statement, Gasparian rejected as untrue the claim by Azerbaijani Foreign Minister Elmar Mammadyarov that Armenia has agreed to the liberation of seven occupied districts bordering on the unrecognized Nagorno-Karabakh Republic, RFE/RL's Armenian Service and Armenian agencies reported.

Mammadyarov was quoted on 17 May by the online daily zerkalo.az as saying that Armenia has agreed to such a withdrawal and that discussions are ongoing on a timetable for doing so.