Baku, Yerevan Differ On Resolution Ahead Of Talks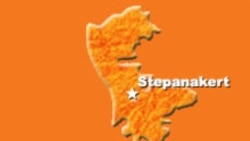 Prague, 8 June 2005 (RFE/RL) -- Azerbaijani Foreign Minister Elmar Mammadyarov told journalists in Baku on 7 June that "a great deal will depend" on the outcome of his meeting with his Armenian counterpart Vartan Oskanian in Paris on 17 June, echo-az.com and day.az reported on 8 June.
Mammadyarov again said that the two sides are discussing between seven and nine issues related to a peace settlement, and that those issues have to be addressed in a specific order, with each made secure before the following one is added, "like pearls knotted on a silk thread."

Mammadyarov said Azerbaijan insists on the liberation of the seven districts currently occupied by Armenian forces, and that the two sides are discussing which countries or organizations could provide peacekeeping forces to be deployed on those territories after their liberation, according to day.az.

He also said that "after the frontiers are opened we must revive trade links and transport." Echo-az.com quoted Mammadyarov as saying that the two sides are discussing both the "phased" and the "package" approaches to resolving the conflict.

But a senior Armenian Foreign Ministry official told "RFE/RL Newsline" on condition of anonymity that the final agreement will be a package one, although its various provisions may be implemented one after the other, rather than simultaneously.