El-Baradei Gets Third Term As Head Of IAEA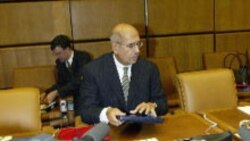 El-Baradei (file photo) 13 June 2005 -- The governing board of the UN's nuclear watchdog, the International Atomic Energy Agency (IAEA), today unanimously reappointed Muhammad el-Baradei as the agency's head.
It will be el-Baradei's third term as IAEA chief. He has headed the agency since 1997. His reappointment came as the IAEA opened a weeklong meeting in Vienna today.
Last week, the United States said it no longer opposed el-Baradei's re-election and was prepared to accept another term for the Egyptian.
The board of governors meeting in Vienna is expected to receive a new report from el-Baradei on Iran's cooperation with the UN nuclear agency.
The meeting is also expected to discuss concerns about North Korea's nuclear-weapons program and a Saudi request for the UN agency to sign an agreement that would limit international monitoring of any nuclear activity in Saudi Arabia.
(AP/AFP/Reuters)
Related story:
El-Baradei Set For Third Term As IAEA Chief