Afghan Security Official Killed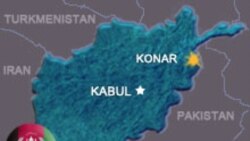 1 July 2005 (RFE/RL) -- Gol Mohammad, the security commander of Surkhanay District in Konar Province was killed on 28 June, while two of his family members received injuries, Hindukosh News Agency reported on 29 June.
Konar Province is where a U.S. military helicopter crashed on 28 June, possibly as a result of enemy fire during fighting in the mountainous region.
Gol Mohammad was killed by an explosion that was apparently triggered by a remote-control device.
While Hindukosh has blamed the neo-Taliban for the incident, no one has claimed responsibility for killing the security chief.
See also:

U.S. Locates Downed Helicopter

More news and analysis on Afghanistan