Afghan Legislative Elections On Track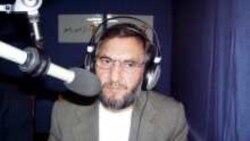 Afghan Joint Electoral Management Body Chairman Bismillah Bismal (file photo) 5 July 2005 (RFE/RL) -- The United Nations said today that parliamentary and provincial elections can be held throughout Afghanistan in September despite a difficult security environment.
But UN official Peter Erben, the chief electoral officer for the 18 September vote said the Afghan election was extremely challenging from the administrative point of view.
In the polls, which the United Nations is helping organize, more than 11 million Afghans will chose from 6,000 candidates at 30,000 polling stations in a war-battered country with little infrastructure facing an increasingly violent Taliban insurgency.
Erben said the polls would be far more complex than October's presidential elections, which had only 18 candidates.
He also said security is a concern.
(Reuters)
See also:

Voters Intent On Registering Despite Fears Of Violence

Is Helicopter Downing A Sign Of New Tactics, Weapons?