Australian Premier Pledges To Keep Soldiers In Iraq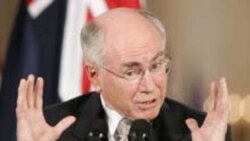 Prime Minister John Howard (file photo) 25 July 2005 -- Australia's Prime Minister John Howard, on a surprise visit to Baghdad, has pledged that his country's soldiers will remain in Iraq as long as the Iraqi government needs them.
AFP news agency quoted an unnamed Australian diplomat as saying that Howard made the commitment today during talks with Iraqi Prime Minister Ibrahim Al-Ja'fari.
Speaking to reporters after the meeting, Al-Ja'fari said the Australian troops are playing a "very important role."
Australia, a strong ally of the United States, has about 750 troops in Iraq.
Howard has refused to spell out a timetable for withdrawing troops from Iraq, saying it depends on a range of factors, including the ability of local security forces to work effectively against the insurgency, and the ability of the democratic structures to function.
(AFP)
Related Story:

Does Britain's Secret Memo On Iraqi Withdrawal Indicate A Weakening Of Resolve?For RFE/RL's full coverage of developments in Iraq, see "The New Iraq"