U.S. Military Says Afghan Insurgent 'More Ruthless'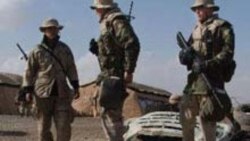 U.S. soldiers in Afghanistan (file photo) 1 August 2005 (RFE/RL) -- A U.S. general says rebels in Afghanistan have become "more ruthless" by using suicide bombers and targeting religious and government leaders as they struggle to subvert legislative elections --> /featuresarticle/2005/7/923E5154-49B6-4E36-9CA9-A66AFC3B7B4E.html in September.
Major General Jason Kamiya, the operational commander for coalition forces, said today that insurgents operate in small groups and conduct operations in areas where the coalition forces do not have a presence.
Speaking to reporters in Kabul, Kamiya added that attacks by insurgents, as well as civic unrest and violence linked to power struggles between regional leaders, is likely to continue until after the elections on 18 September.
In the southern Helmand Province, a United Nations convoy was ambushed on 31 July. UN spokesman Adrian Edwards said on 1 August that a driver and a policeman were injured in the attack.
(AP/Reuters)
Related Stories:

Afghanistan: Violence Increasing In South, East

Afghanistan: Battle Linked To Elections, New Taliban Tactics