Iran Pushes Back Nuclear Deadline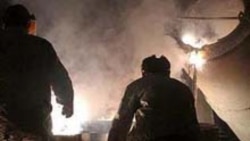 3 August 2005 -- Iran's chief nuclear negotiator said today that Tehran has decided to push back by a few days a deadline for resuming its uranium-enrichment activities.
Western news agencies quoted Hassan Rowhani as saying that Iran hopes to resume its uranium conversion process by the start of next week. The week starts on Saturday in Iran.
Earlier today, another Iranian negotiator, Ali Agha Mohammadi, said he expected Tehran to resume its nuclear activities imminently.
Also today, the United Nations nuclear watchdog (IAEA)

asked Iran to wait a week
before restarting its uranium-conversion program.
Yesterday, the Euro 3 -- France, Germany, and Britain -- told Iran that any move to resume its nuclear activities would bring talks to an end and force them to pursue "other courses of action," a warning that
Iran rejected
.
France and the United States have threatened to refer the case to the UN Security Council, a move that could lead to sanctions against Iran.
(Reuters/AFP)
See also:

Europeans Urge Iran Not To Jeopardize Nuclear Talks

French Premier Says Iran Issue Should Go To UN