Serb Leader Urges Mladic To Surrender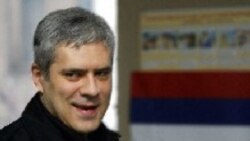 Boris Tadic 3 August 2005 (RFE/RL) -- Serbian President Boris Tadic appealed anew today for top war crimes fugitive Ratko Mladic to surrender, saying the former general is holding back the Balkan republic's aspirations to integrate into Europe.
Tadic made his appeal in an interview with the AP news agency.
The European Union has made Mladic's extradition to the United Nations tribunal in the Netherlands a key condition for Serbia to start negotiations in October to bring it closer to EU membership.
The Hague tribunal indicted Mladic and the Bosnian Serb wartime political leader, Radovan Karadzic, for genocide and other war crimes during Bosnia's 1992-95 war. The case stems from the 1995 massacre of as many as 8,000 Muslim men and boys in the eastern Bosnian enclave of Srebrenica.
Last week,
Karadzic's wife urge him to surrender.See also:

Karadzic And Mladic Are 'Everywhere But In The Hague'