Azerbaijani Oppositionist Denounces Intimidation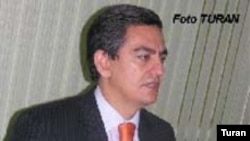 Ali Kerimli (file photo) (Turan) 5 August 2005 (RFE/RL) -- The leader of the Popular Front Party of Azerbaijan (AXCP) today described the arrest of youth leader Ruslan Basirli --> /featuresarticle/2005/08/fc9ec058-6a3c-40d7-9eda-8e276ce7c044.html as part of a government plan to intimidate the opposition, but vowed to continue campaigning for free and fair parliamentary elections in November, --> /featuresarticle/2005/7/2DDD2753-76F1-449C-96A1-C05483654EFD.html RFE/RL's Azerbaijani Service reported.
Addressing reporters in Baku, Ali Kerimli said Basirli's arrest was a provocation organized by the government of President Ilham Aliyev.
"These provocations, these attacks, these psychological campaigns and blackmail attempts will not succeed in distracting us from our struggle for free and fair elections," Kerimli said. "Their goal is to occupy the agenda, to artificially raise new issues and to distract us from our struggle for free and fair elections."
Basirli, who chairs the Yeni Fikir (New Thinking) opposition youth movement, was arrested on 3 August in Baku. Police claim he had received Armenian money to plot against the government. Yeni Fikir Deputy Chairman Fikrat Mammadoglu rejected the charges at a news conference in Baku today.
Meanwhile, the AXCP leadership in the exclave of Nakhichevan reported an attack on its headquarters. Nakhichevan AXCP leader Asaf Quliyev said unidentified assailants, numbering 25 and armed with metal bars, today beat up party activists and destroyed furniture before escaping. There was no immediate comment from regional authorities.
(RFE/RL, Turan)
See also: Baku Implicates Armenian Intelligence In Alleged Coup Bid
Azerbaijan: Panic Capitulation, Tactical Concession, Or Calculated Risk?