Hussein's Family Sacks Foreign Defense Team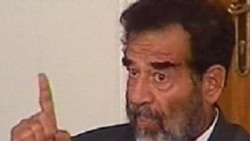 Hussein at his arraignment in July 2004 (file photo) 8 August 2005 (RFE/RL) -- The family of ousted Iraqi dictator Saddam Hussein said today it has sacked all members of his foreign defense team, and from now on would deal only with his Iraqi lawyer.
A statement from the family signed by Hussein's daughter Raghad said only Iraqi lawyer Khalil Dualaimi would have the right to act on behalf of Hussein.
The statement said the foreign lawyers had used their position to "further interests not linked to the case."
Hussein is in U.S. custody near Baghdad
awaiting trial
on charges of crimes against humanity. No trial date has yet been set.
(AFP)
See also:

De-Ba'athification Commission Backs Away From Tribunal Purge