Prosecutors To Probe Russian Sub Accident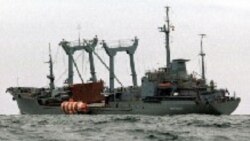 9 August 2005 (RFE/RL) -- Russian prosecutors said today they have opened a criminal investigation into the accident in which seven crewmen were trapped for three days in a mini-submarine under the Pacific Ocean.
Roman Kolbanov, Pacific Fleet deputy military prosecutor, said an initial investigation has established negligence by officials responsible for overseeing the AS-28 submarine's mission.
One of the crew, Captain Valerii Lepetyukha, said today that the submarine had been sent to investigate an underwater surveillance antenna that had got entangled in fishing nets. He said the submarine then got trapped by undersea cables.
Russia appeal for outside help to rescue the submarine, and a British Scorpio remote-controlled vehicle
spent six hours cutting away the cables
, allowing the submarine to rise.
(AP/AFP)