IAEA Draft Resolution Demands Iran Resume Nuclear Freeze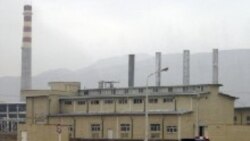 Uranium-conversion facility in Isfahan (file photo) 11 August 2005 (RFE/RL) -- News agencies report a draft resolution being discussed by diplomats at the UN's International Atomic Energy Agency (IAEA) demands that Iran resume the full suspension of all nuclear-fuel-related activities.
The draft resolution also requests that IAEA Director-General Muhammad el-Baradei verify Iran's compliance with the international Nuclear Nonproliferation Treaty (NPT).
But the draft does not say Iran should be referred to the UN Security Council, which has the power to impose sanctions.
Reuters and AP have reported that they obtained a copy of the EU-sponsored resolution. The text is to be reviewed later today by the IAEA's 35-member board of governors.
Yesterday, Iran broke the IAEA seals on its nuclear facility at Isfahan and says it is ready to resume in full the process of nuclear conversion there.
Iran has rejected an EU offer of economic and political incentives in exchange for abandoning all nuclear-fuel-related activities but has said it still wanted to continue with the talks.
(Reuters/AP)
See also:

Moscow Urges Iran To Halt Nuclear Restart