Georgia, Ukraine Push For New Regional Alliance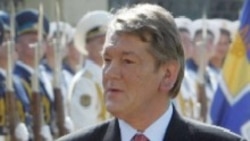 Ukrainian President Viktor Yushchenko (file photo) 12 August 2005 -- The Ukrainian and Georgian presidents today called for the setting up of a new regional alliance that would champion freedom and democracy in their countries and throughout the region.
Ukraine's Viktor Yushchenko and Georgia's Mikhail Saakashvili said in a statement that the Commonwealth of Democratic Choice will become a powerful tool for promoting human rights.
Meeting at the Georgian spa town of Borjomi, the two leaders said they were aiming to promote "a new era of democracy, security, stability, and peace across Europe, from the Atlantic to the Caspian Sea."
They said the new alliance would be inaugurated at a summit in Ukraine this fall and invited the United States, the European Union, and Russia to attend as observers. The two said that the new grouping would unite democracies of the Baltic, Black Sea, and Caspian regions, but wouldn't elaborate which specific nations could join.
(AP)
See also:

Georgian, Ukrainian Presidents Discuss Common Policies