More Uzbeks Appeal To UN For Protection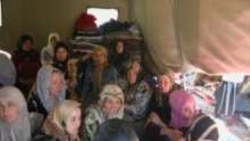 More than 400 Uzbek refugees have already fled, aided by a UN-aided transfer to Romania (file photo) Bishkek, 20 August 2005 (RFE/RL) -- At least three Uzbek nationals who say they fled their country after the May crackdown in Andijon showed up today at the United Nations' regional office for refugees in the southern Kyrgyz city of Osh, according to RFE/RL's Kyrgyz Service.
The three said they have been hiding inside Kyrgyzstan since the
authorities' crackdown against protesters
in eastern Uzbekistan.
Izatulla Rakhmatullaev, who heads a local Kyrgyz nongovernmental group called Justice and Legal Order, told RFE/RL that his group helped the Uzbeks reach the UN office for refugees in Osh.
The UN office has not yet commented on the information.
One of the Uzbeks told RFE/RL that he was inside the regional-administration building of Andijon during the unrest. He declined to give his name for fear of reprisals.
Some 439 Uzbek refugees had been
transferred from Kyrgyzstan to Romania
. Fifteen other Uzbek refugees are still in the Osh pretrial detention center.
[For more on the May events in Uzbekistan, see our dedicated archive page.]