Second Iraqi Constitution Deadline Looms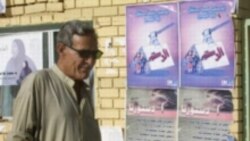 A poster promoting the Iraqi constitution 22 August 2005 (RFE/RL) -- Iraqis are facing a second deadline today to complete their country's draft constitution although leaders remain divided over key issues.
Differences remain on issues like
federalism,
the role of Islam and the sharing of national oil wealth.
A government spokesman, Laith Kubba, said on 21 August there are two options if the document is not ready today. He said the deadline could be extended again, or the parliament could be dissolved.
An original deadline on 15 August
was extended to midnight on 22 August when no agreement was reached.
AP reports leaders of the Sunni Arab, Shi'ite, and Kurdish factions plan more talks this morning.
(AP/Reuters)