Georgia, Azerbaijan, Turkey Hold Military Exercise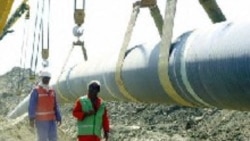 The BTC pipeline under construction (file photo) 22 August 2005 (RFE/RL) -- Some 50 army officers from Georgia, Azerbaijan, and Turkey today began a week-long tactical war game at the Georgian Defense Ministry's National Academy.
Codenamed Eternity-2005, the exercise focuses on ways to prevent terrorist attacks against a major export pipeline that links the Azerbaijani capital Baku to the Turkish Mediterranean port of Ceyhan, via Georgia. This is the fifth such exercise since 2000.
One of Washington's leading economic projects in the Caucasus, the 1,760-kilometer Baku-Tbilisi-Ceyhan pipeline was inaugurated last May.
It is expected to become operational next month.
(Imedi TV/Novosti-Gruziya/Civil Georgia/Rustavi 2)
See also:

"Is The BTC Oil Pipeline Saving Europe From Russia Or From OPEC?"

"Analysts Expect Security, Economic Gains From BTC Pipeline"