Iraqi Constitution Makes Deadline, Not Yet Finalized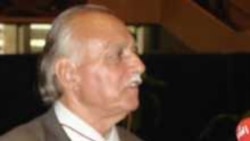 Draft constitution committee member Abd al-Khaliq Zargana Baghdad, 22 August 2005 (RFE/RL) -- Iraq's parliament received a draft of the country's constitution less than five minutes before a midnight deadline.
But there was no vote in parliament on the highly contested document. Parliamentary speaker Hajim al-Hassani told members a text of the document has been received but said the final wording would have to be worked out within the coming three days.
The draft of the constitution was due to be presented by 15 August, but a week ago parliament voted to extend the deadline by one week.
The speaker said he expected remaining differences to be ironed out in the coming days. The Sunni Arab minority said earlier it will campaign against the new text in a referendum.
Sunni negotiator Saleh al-Mutlag said several points of disagreement still exist.
(RFE/RL's Radio Free Iraq, international agencies)
For more on the debate over the Iraqi constitution, see Government Spokesman and Drafting Committee Members Discuss Constitution Negotiations and Iraq: Draft Constitution Due Today, But No Certainty It Is Ready