Defense Ministers Observe Sino-Russian War Games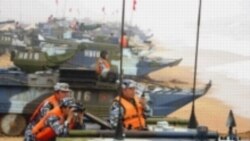 Chinese Marine Corps officers on their amphibious vehicles as they line the beach in Qingdao, eastern China 24 August 2005 (RFE/RL) -- The Russian and the Chinese defense ministers met in China's port city of Qingdao today, where they are both monitoring the two countries' first major joint military exercises.
Chinese Defense Minister Cao Gangchuan and Russian Defense Minister Sergei Ivanov agreed the
one-week drills
demonstrated a new level in what they described as the strategic partnership between the two countries.
Some 10,000 troops -- 1,800 from Russia -- are participating in the land, sea, and air war games. The exercises -- code-named Peace Mission 2005 -- simulate a UN-mandated intervention into an ethnic conflict in an imaginary country.
The maneuvers are due to end on 25 August in the area around China's east Shandong Peninsula, eight days after they began near Russia's Pacific port city of Vladivostok.
(dpa/AFP/ITAR-TASS)
See also:

"Is China Becoming A Regional Military Threat?"

"SCO -- Shoring Up The Post-Soviet Status Quo"