Iraqi Radical Cleric Calls For End To Clashes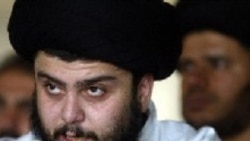 Muqtada al-Sadr (file photo) 25 August 2005 -- Radical Shi'ite Muslim cleric Muqtada al-Sadr has called for an end to armed clashes between his followers and supporters of a rival Shi'ite group.
Speaking to reporters in his home in the city of Al-Najaf today, al-Sadr said Iraq is passing through a critical and difficult period that requires unity.
He also called on rival cleric Abdul Aziz al-Hakim to condemn "what his followers have done."
There are conflicting reports as to what sparked the fighting in Al-Najaf, which led to the burning of al-Sadr's office and reported death of between five and eight al-Sadr followers, according to Arab media reports. The fighting spread to Baghdad, Al-Basrah, Al-Nasiriyah, and other locations.
Prime Minister Ibrahim al-Ja'afari has appealed for calm and promised an investigation into the violence.
The unrest came as parliament was expected to vote today on a draft constitution. The draft is opposed by al-Sadr and Sunni Muslim groups.
(Reuters/AP)
See also:

Iraqi Premier Tries To Quell Violence

More news and analysis on Iraq