Serbian President Calls For New Government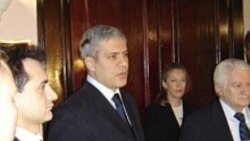 President Tadic (file photo) Belgrade, 29 August 2005 (RFE/RL) -- Boris Tadic, Serbia's pro-Western president, sharply criticized the republic's government today and accused it of reviving the legacy of former Yugoslav President Slobodan Milosevic's autocratic rule.
Tadic called for a new, pro-European government to replace Prime Minister Vojislav Kostunica's government. Tadic's criticism came in an interview today in the daily "Vecernje Novosti."
Kostunica came to power in March 2004 by forging an alliance with Milosevic's Socialist party. In the interview, Tadic accused the ruling parties of "creating the atmosphere of the 1990s."
He also criticized Kostunica for withdrawing charges against Milosevic son, Marko Milosevic, who had been accused of harassing his father's political opponents.
(RFE/RL's South Slavic and Albanian Languages Service, AP)
See also:

"Serbian Government Crisis Suggests Early Elections"