Head Of Iran's Atomic Program Reappointed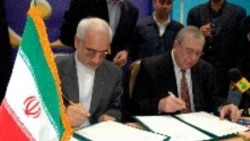 Aghazadeh (L) signs a nuclear-fuel agreement with Russia in February 30 August 2005 (RFE/RL) -- Iran's President Mahmud Ahmadinejad has reappointed Gholamreza Aghazadeh as head of the country's nuclear program.
Aghazadeh has led Iran's Atomic Energy Organization since 1997.
He is credited with advancing Iran's atomic program, which Tehran says is purely for peaceful purposes.
(Reuters)
For RFE/RL's complete coverage of the controversy surrounding Iran's nuclear program, see
"Iran's Nuclear Program."