Purported Al-Zarqawi Tape Slams Saudi 'Tyrants'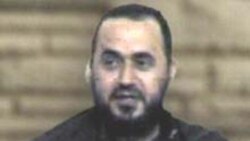 Mus'ab al-Zarqawi (file photo) 7 September 2005 -- Iraq's Al-Qaeda leader Abu Mus'ab al-Zarqawi has slammed Saudi Arabia's rulers as despots allowing Westerners to loot the riches of Islam's birthplace.
The accusation was carried on an Internet audiotape attributed to him yesterday.
The speaker, who sounded like al-Zarqawi, said on the tape posted on an Islamist website that the Saudi tyrants are traitors to the nation and its religion.
The speaker said the Saudis have waged war against the mujahedin and allowed the crusaders into the peninsula of Prophet Muhammad to loot its wealth.
There was no immediate reaction to the tape.
(Reuters)
For the latest news and analysis on Iraq, see RFE/RL's webpage on "The New Iraq".