Beslan Investigators To Question Security Heads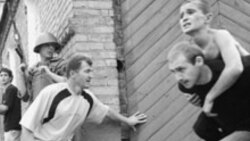 8 September 2005 (RFE/RL) -- A top Russian prosecutor said today that officials conducting an investigation into last year's deadly Beslan school siege will question some of the heads of Russia's security services.
Deputy Prosecutor-General Vladimir Kolesnikov said Interior Minister Rashid Nurgaliev and Nikolai Patrushev, head of the Federal Security Service (FSB), are among those who will be questioned.
Nurgaliev and Patrushev are two Moscow officials blamed by Beslan residents for the tragedy on 3 September 2004, when the siege ended with the deaths of about 330 people -- of whom more than half were children.
President Vladimir Putin promised bereaved relatives in a meeting last week that the investigation will uncover the truth and officials who allowed the standoff to end in a bloodbath will be punished.
No senior officials have been sacked or punished for the disaster.
(Reuters)
See RFE/RL's dedicated webpage, see "Remembering Beslan"