Putin In Berlin For Talks With Schroeder, Merkel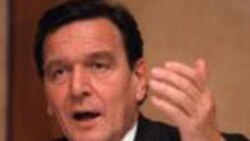 Chancellor Gerhard Schroeder (file photo) 8 September 2005 -- Russian President Vladimir Putin arrived in Berlin today for talks with German Chancellor Gerhard Schroeder about bilateral relations.
Putin and Schroeder are due to sign an agreement on building a $5 billion gas pipeline under the Baltic Sea that would ship Russian gas to Germany for sale in Western Europe.
ITAR-TASS noted that Putin will also meet with Angela Merkel, Schroeder's challenger in Germany's upcoming federal elections later this month.
Putin is expected to arrive in Greece later today for a two-day working visit.
(AFP/BNS/ITAR-TASS)
See also:

"Putin, Schroeder Ratify Pipeline Deal"