Ukraine: President Sacks Government, Offering More Questions Than Answers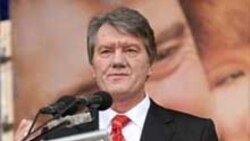 Where does Yushchenko go from here? President Viktor Yushchenko on 8 September dismissed the cabinet of Prime Minister Yuliya Tymoshenko and accepted the previous day's resignation of National Security and Defense Council Secretary Petro Poroshenko. A few days earlier, Yushchenko accepted the resignation of his chief of staff, Oleksandr Zinchenko. Thus, three of Yushchenko's closest allies and brothers-in-arms from the November-December 2004 Orange Revolution in Ukraine have found themselves outside the government and are not likely to return to it before the March 2006 parliamentary elections. The Orange Revolution, in accordance with a well-known saying, has started to devour its children.
The dismissal of the Ukrainian government took place amidst allegations of corruption in the president's inner circle, which were publicly voiced by Zinchenko and Tymoshenko's closest aide, Mykhaylo Brodskyy. Both Zinchenko and Brodskyy pointed to Poroshenko as the main backstage operator in Ukrainian politics, who allegedly obstructed the government's activities and pursued private interests in his official position. Yushchenko, in explaining his decision to sack Tymoshenko's cabinet and Poroshenko, said his colleagues in the government have "lost the team spirit" and "concentrated on PR activities" instead of working toward implementing Orange Revolution ideals.
According to most Ukrainian commentators, Yushchenko's radical move on 8 September has temporarily strengthened his position as the top arbiter in the Ukrainian political arena and the guarantor of the country's stability. Both the government and the president have been steadily losing popularity in recent months among the public, while the Orange Revolution pledge to return dishonestly privatized properties to the people has been perceived by an increasing number of people in Ukraine as just a slogan covering the redistribution of those properties among oligarchic clans. In the short run, Yushchenko appears to have gained a lot in the eyes of those Ukrainians who still believe that the Orange Revolution was about more democracy and less corruption in their country than about bestowing government posts and benefits upon revolution heroes.
However, any further progress in pushing the Orange Revolution program seems to be an uphill task for Yushchenko. Without doubt, Yushchenko has made a very prudent move by appointing Yuriy Yekhanurov as caretaker prime minister. Yekhanurov, who has extensive experience in many government posts, is widely seen as a technocrat and is therefore expected to form a government of experts and economists rather than revolutionary combatants. And Yekhanurov stands a very good chance of being approved by the Verkhovna Rada. But it is very unlikely that he will be allowed by parliament to pursue any radical reforms prior to the March 2006 parliamentary elections.
Yushchenko's political position may also be considerably undermined by the political reform that is going to take effect on 1 January, which will shift the center of political power from the president to the cabinet and parliament.
As testified by a number of abortive votes in the Verkhovna Rada in July on government-proposed bills to facilitate Ukraine's joining the World Trade Organization, Yushchenko cannot count on a reliable parliamentary majority to support his reformist agenda. Now, after Tymoshenko's dismissal, the chances of forging a lasting parliamentary alliance for the government are even slimmer. The best that can be expected from the new cabinet is to maintain macroeconomic stability in the country in the run-up to and during the 2006 parliamentary election campaign, and to secure supplies of Russian gas for 2006 at a tolerable price.
While Tymoshenko was prime minister, it was understood that Yushchenko's Our Ukraine People's Union and the Yuliya Tymoshenko Bloc would form a parliamentary election coalition, preferably together with the People's Party headed by parliamentary speaker Volodymyr Lytvyn, to counter the forces that in the Orange Revolution supported Yushchenko's presidential rival, former Prime Minister Viktor Yanukovych. Now the probability of such a coalition seems to be virtually nil. On the contrary, many expect a bitter election confrontation between pro-Yushchenko and pro-Tymoshenko forces. Such a development might lead to a serious political disorientation among adherents of the former Yushchenko-Tymoshenko revolutionary duet and add to their further disillusionment.
Yushchenko's political position may also be considerably undermined by the political reform that is going to take effect on 1 January. The reform, which was adopted as a compromise to overcome the presidential-election standoff in 2004, will shift the center of political power in Ukraine from the president to the cabinet and parliament. Some in Ukraine speculated that Yushchenko might somehow cancel this reform to prevent a curtailment of his prerogatives. Now that Tymoshenko has become Yushchenko's political rival and is supposed to fight for the post of prime minister against the pro-Yushchenko forces in the upcoming parliamentary elections, she will hardly be interested in canceling the political reform to preserve Yushchenko's political clout. Which is another argument to support the assumption that the stakes in the 2006 parliamentary elections in Ukraine will be very high and that the elections themselves will be a political fight with no rules.
See also:

President Yushchenko Sacks Government In Growing Crisis

RFE/RL Interviews Prime Minister Yuliya Tymoshenko